Hi guys, happy world vegan day! Today I wanted to post something to mark the occasion, but as you'll know from my last post, I was really struggling for inspiration.  I love my plant-based diet and all of the recipes I share, so I wanted this post to be 100% positive. Obviously, food is my thing so I didn't want to stray too far from that. Then, at the very last minute (yesterday lunchtime), I realised I could talk about vegan protein, and staying true to my culinary colours, I'm sharing a high protein vegan recipe too. So, today's post is a two in one vegan protein myth buster and lentil ragu recipe.   
I feel like protein on a vegan diet is still something that's greatly misunderstood by a lot of people. And as far as the internet goes, in terms of research, that probably makes it worse. There are so many different thoughts and opinions out there, it can get really confusing. The myths I'm going to be dispelling today are all based on either things I've seen online or real life conversations. I could have easily missed something here so let me know if there's anything else you'd like to know! 
The Myths
1. You can't get protein on a vegan diet 
Most people capable of logical thought know this one is ridiculous. All whole foods contain protein, even if it's a small amount and some vegan foods contain high amounts. 'Where do you get your protein from?' for some strange reason, is still a common question. 
2. It's hard to get protein on a vegan diet
No. I can see where this one comes from. I think this is something you need to be careful of when you first switch your diet because it can be easy to not get enough if you don't eat certain things. But, it is easy when you get yourself in a routine.  
3. You don't have to think about protein on a vegan diet
Annoyingly, this one comes from other vegans. I don't think this is much of a thing these days, but when this was all new to me, I saw this a lot. The raw vegans, fruitarians and the 80/10/10 crowd would spout nonsense about if you eat enough carbs and calories, you will get enough protein. Potatoes are great, but I don't want to know how many you'll need to get enough protein. Eat some lentils too. 
4. Your body can't absorb plant protein
Another one that has a tiny bit of truth massively blown out of proportion. This one varies from person to person in terms of absorption rates. The true part of this is that the body finds it harder to absorb plant proteins, so it's better to eat more than you need to make sure you're getting the right amount. So, plucking numbers out of thin air, if you want to get 50g, maybe eat 60g to be sure.  
5. You have to eat multiple proteins at once
This one is a yes and no. Proteins are made up of amino acids. In our diets, there are essential amino acids. These are the ones that our bodies can't make on their own. A protein source is considered a whole or complete protein if it contains every essential amino acid. There are very few whole plant protein sources, soy, quinoa, and buckwheat. Although buckwheat doesn't contain a huge amount of protein compared to the other sources, the protein it does have is still whole. However, you don't need to get all 9 essential amino acids in one meal, you only need to get the required amount of each throughout the day. 
Recipe time! 
So now I've told you how easy it is to get protein, it's time to put my money where my mouth is. This lentil ragu with lentil or pea pasta works out at around 35g protein per serving, with only 3g fat.  
I decided to make this as I think pea and lentil pastas are a great way of adding protein to your diet in a very easy way. They only take around 7 minutes to cook and are really convenient. Obviously, being made from lentils or peas, they're also gluten free, soy free and nut free, so they're great from an allergy perspective. Without the protein pasta, the ragu alone still contains around 13g per serving, which isn't bad for a sauce.  
The decision to make ragu was easy, I know many households have pasta dishes as a staple and I thought this one would be a good twist on a family favourite. It's also great for people who are wanting to transition to a more vegetarian or vegan diet but don't want to give up their favourites. Anyone considering Veganuary, add this one to your list.  
This one contains red wine, but if you don't drink or don't want to add wine if you're serving kids, sub the wine for extra stock. I know people like different pasta to sauce ratios so it's difficult to give a 'serves' number for this one. If eating alone, probably 2-3 portions, with an average portion of pasta it's more like 4-5. The nutritional values above are based on it serving 4 people. 
This recipe is gluten free, dairy free, vegan, soy free and nut free. 
Lentil Ragu
This recipe is gluten free, dairy free, vegan, soy free and nut free.
Cook Time
1
hour
5
minutes
Total Time
1
hour
15
minutes
Ingredients
1

medium red onion

finely chopped

3

cloves

garlic

finely chopped

1

cup

green lentils

125

g

chestnut mushrooms

roughly chopped

3

small/ 2 medium carrots

roughly chopped

2

tsp

dried oregano

2

tsp

dried thyme

1

cup

vegetable stock

A tin chopped tomatoes

1

tbsp

tomato paste

180

ml

red wine
Plus desired amount of pasta
Instructions
Heat the oil in a large saucepan and add the onions and garlic, cook on a low heat for 5 minutes.

Add carrots and mushrooms and cook gently for a further 10 mins until everything is softened. Stir in the lentils, chopped tomatoes, tomato purée, wine, herbs and stock. Bring to a simmer, then cook for 40-50 mins until the lentils are tender and saucy – splash in water if you need. Season.

If eating straight away, keep on a low heat while you cook the pasta, following pack instructions then serve. Alternatively, cool the sauce and chill for up to 3 days. Or freeze for up to 3 months. Simply defrost portions overnight at room temperature, then reheat gently to serve.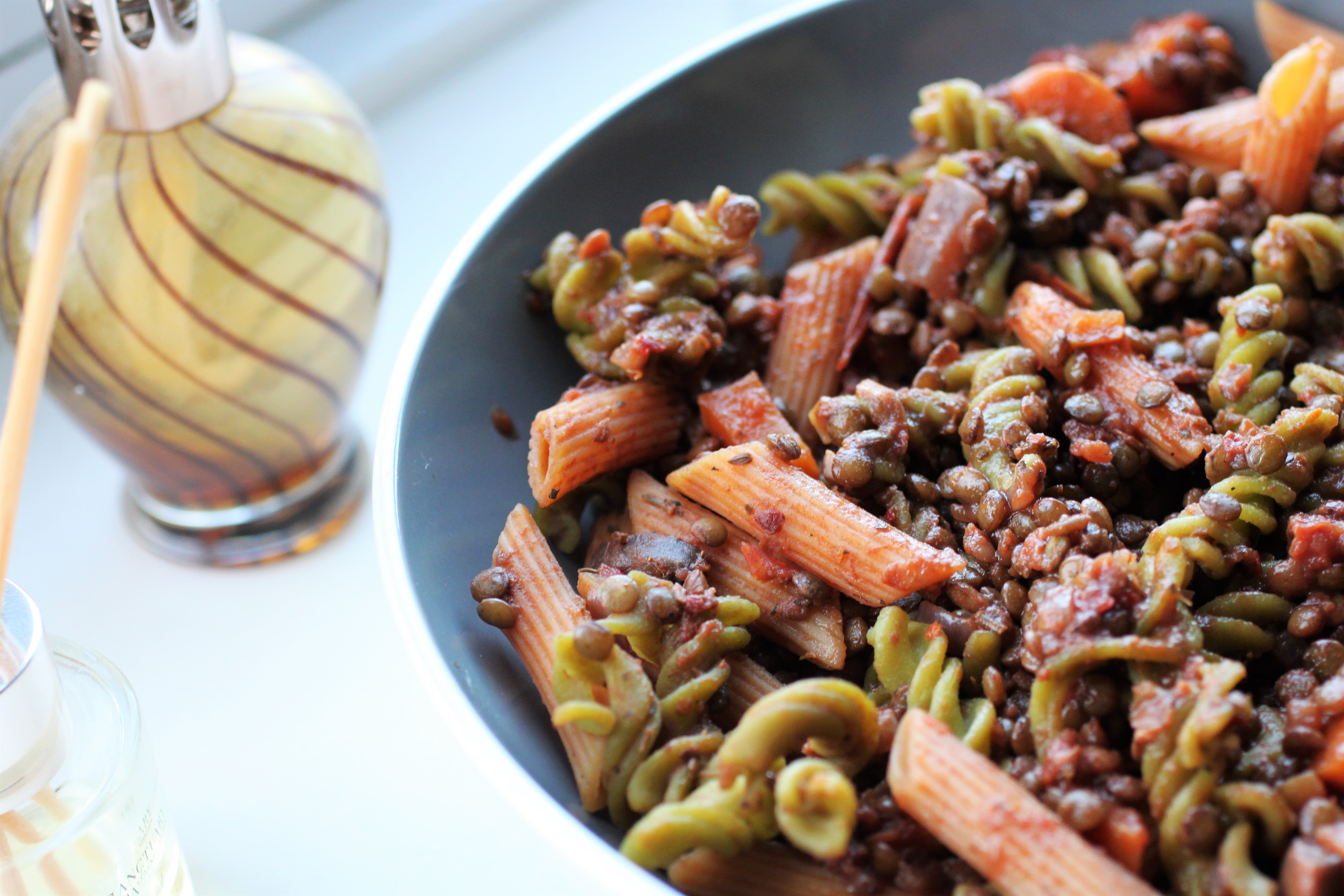 Do you like the sound of this lentil ragu? Do you switch up classic dishes for veggie alternatives sometimes in your house? Let me know your thoughts! Happy World Vegan Day!! 
Until next time, 
Sophie