Hey everyone, today I'm back with another summer survival recipe, and I can't believe I've never shared this one before. I've featured this salad on my Instagram many times before (looking slightly different, of course), but this is one of my go-to meals for all seasons. That's right, go-to meals, not just my go-to salad. During this heatwave, I've probably had this dish at least once a week for the past two months. And that's coming from someone who doesn't like to repeat meals.  
I love this salad for many reasons. The first being that it's balanced. I know, I go on about that word a lot when I'm talking about food, but it's important to me. And this dish has the perfect ratio of carbs, fats and protein. So, not only is this salad delicious and healthy, it's got all the right components to actually keep you full as well. Now, 'full' might not be the word you want to hear if your appetite has dropped lately (like mine). But, if you make this in smaller servings you're still getting a good dose of your vital vitamins without ending up in a food coma.  
It contains a mixture of hot and cold ingredients, so it still works in wintery months too, but you can always leave the warmer ingredients to one side to cool in summer.  
This recipe is gluten free, dairy free, nut free and vegan. 
Serves 2 
Prep time: 30 minutes  
Ingredients 
1 can chickpeas, drained and rinsed 

 

2tsp garlic pepper seasoning 

 

Pinch of chilli flakes

 

1 tsp olive oil

 

A bell pepper (red, orange or yellow), halved

 

200g kale or lettuce

 

A few handfuls baby spinach 

 

40g rocket leaves 

 

Sundried tomatoes to taste 

 

60g mixed seeds 

 

1-2 tbsp tamari 

 

1 tsp chilli powder (or to taste)

 

2tbsp pesto

 
Method
Preheat oven to 220°c. Place chickpeas and bell pepper onto baking tray and drizzle with olive oil. Then coat the chickpeas with the garlic pepper seasoning and chilli flakes and place in the centre of the oven for 25-30 minutes. When cooked the chickpeas should be crispy and the peppers slightly blackened across the top. 

 

While they're in the oven, mix the kale, spinach and rocket in a bowl and coat with the pesto. Split the greens into individual serving bowls then add the sundried tomatoes.

 

5 minutes before the ingredients are due to come out of the oven, add the seeds to a small saucepan on a low heat. When the oils start to loosen, stir in the chilli powder and stir continuously until seeds are fully coated. Add the tamari and stir through before removing from heat and add to the individual bowls. 

 

When pepper and chickpeas are ready to be removed from the oven, slice the peppers then add to the bowls ready to serve.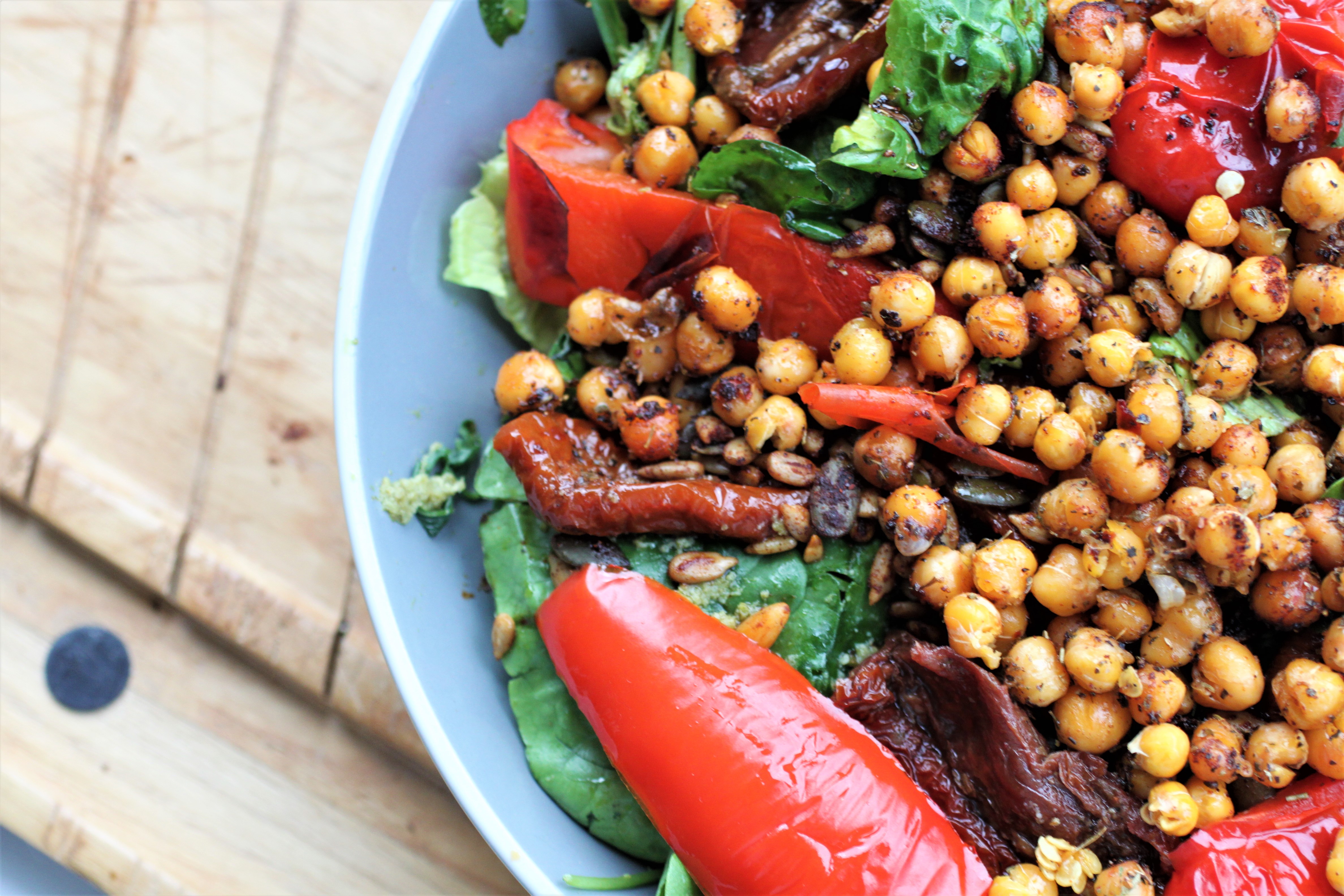 Serve and enjoy!  
Do you guys ever crave salads in winter too or is that just me?  
Until next time, 
Sophie  
To view my previous summer saviour recipe, click here.